28 (AC) Squadron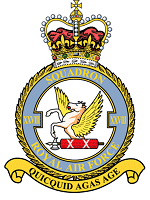 When 28 (AC) Squadron officially reformed on 17 July 2001, it was the first time that the Squadron had served in the UK since 1920. No 28 (AC) Squadron was formed at Gosport on 7 November 1915 under the command of Major ACE Marsh as a training unit operating a variety of aircraft types. In July 1917 the Squadron moved to Yatesbury, hence the association of the unit badge with a demi-Pegasus representing the white horse on the Downs near Yatesbury, where it re-equipped with Sopwith Camels in September. It then deployed to France where it was 'blooded' in the third battle of Ypres only a month after arriving in France. The Squadron then moved to Italy and was operational only 2 days after arriving with its aircraft in crates. There, the Squadron flew escort to bombing raids and once it became clear that there was no fighter threat, the aircraft began carrying 4 x 25 lb bombs for use in the fighter-bomber role. The area became more active by the Summer of 1918 and 53 enemy aircraft were destroyed in 3 months.
After World War 1, the Squadron returned to Yatesbury for a year and was then deployed to the Northern Frontier of India as an Army Cooperation Squadron, flying Bristol Fighters and then Audaxes with which it entered World War II. The Squadron re-equipped with Lysanders in September 1941 and Hurricanes in December 1942. The remainder of the war was spent in Burma flying reconnaissance sorties for the Army.
Following the end of the War, the Squadron became an integral part of the Far East Air Force as a Fighter Reconnaissance Squadron, and in 1949, it moved to Kai Tak in Hong Kong, where it made up the RAF's token defence force. The Squadron reverted to the fighter role with the Spitfire FR18, which was replaced in February 1951 with the Vampire. In 1956 the Squadron re-equipped with the Venom and then the Hunter in 1962, remaining the single active RAF unit in Hong Kong until disbandment on 2 January 1967. On 1 March 1968 the Squadron reformed with the Whirlwind HC Mk10 helicopter, operating in a variety of roles, covering SH and Search And Rescue (SAR). The Wessex HC Mk2 eventually replaced the Whirlwinds in 1972 and the Squadron moved to Sek Kong in 1978. The Squadron remained there until the closure of Sek Kong in November 1996. The Squadron then operated from Kai Tak for the last 8 months of its operations, before disbanding on 3 June 1997 when Hong Kong was handed back to the Chinese.
Since reforming on the 17th July 2001 at RAF Benson, the Squadron has developed to incorporate A and B Flights, which are the operational flights, an embedded Operational Conversion Flight (OCF) on C Flight, a Squadron Training Flight which is D Flight and also, E Flight.
To read more, please visit the: The RAF Benson website