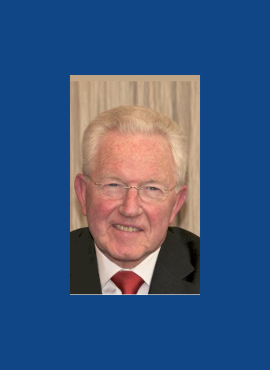 Jack Wigglesworth MA (Oxon) Hon. DSc (City), Master 2006-2007
Jack has held a variety of high level roles in the City, including Economist, Phillips & Drew (now UBS); Bond broker, W Greenwell & Co (now HSBC); Business Development Director, J.P. Morgan Futures Inc.; Director, Citifutures (Sales & Marketing arm Director of futures and options broking at Citibank), later sold to ABN Amro; Chairman, ABN Amro Futures Ltd; Founder Director CISI and FOA, Member Authorisation Committee and Enforcement Committee, financial regulator SFA: Founder & Chairman of London's Financial Futures Exchange (LIFFE) (now Ice/NYSE/EuronextLIFFE).
He was Chair of the Policy Group OMFIF and Chairman of LOPPEX.
His charitable interests include Chair of the Hackney Education Action Zone.
Jack's clubs include Athenaeum and the City of London Club and his other interests include travel, reading, Su Dokus, music, gardening, walking, debating, driving, odd jobs, radio and TV.
He is married to Carlota.