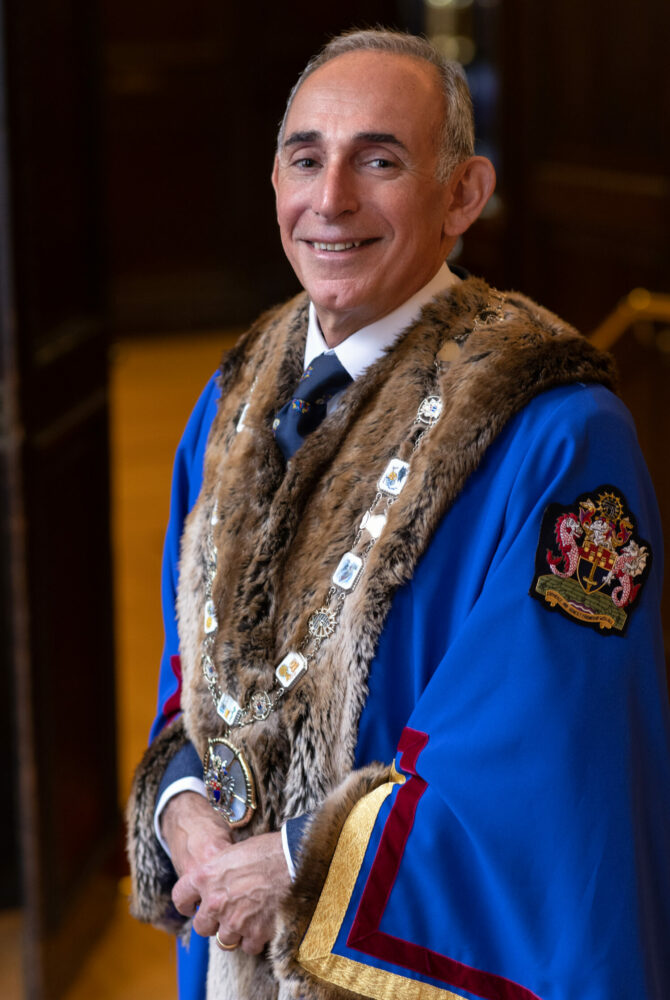 Michael Shapiro was born in Leeds, in the then West Riding and is thus a proud Yorkshireman.
Michael was educated at Rossall School, Fleetwood, and then read Law at Nottingham Trent University before going to The College of Law in Chester to study for his professional exams. He was articled to a firm of City Solicitors, and qualified in 1983.
Michael was admitted as a Freeman of The Worshipful Company of World Traders in 2013 and was clothed a Liveryman in 2015. He became Chair of The Membership and Fellowship Committee in 2016 retiring in October 2021. He joined the Court of Assistants in 2017 and was installed as Master at The Mansion House on October 26th 2022.
Michael became a World Trader for several reasons. By profession, he is a property solicitor, and has been a partner in several firms, based in the City of London, from 1986 onwards. Over the past 20 years, much of his work has an international flavour, as many of his clients are based overseas and need to have a presence in this country. He was keen to join a Livery Company that focussed on his interests rather than his profession. Finally, and most importantly, his proposer assured him that he would enjoy being part of the Worshipful Company of World Traders. He was correct!
In his professional life, Michael is now a partner at Spencer West. He spends much of his time explaining to his international clients (some of whom have enjoyed coming to World Traders' events) how English property law and practice operate. He is interested in how leaders develop and is particularly keen to pass on his experiences of legal and commercial life in the City to his colleagues and to our Journeymen members in the Company.
Michael loves the traditions of the City, and the way they fit into modern life. He especially enjoys walking round the City, marvelling at the juxtaposition of the old and the new. He is a great admirer of the richness of the architecture of the London skyline especially as viewed from the banks of the Thames. He also enjoys attending the many ceremonial events as well as events that involve food and wine that are a part of the fabric of City life.
Michael is an ambassador for The London Chamber of Commerce and Industry and a keen supporter of its work. He has recently retired from being an elected Governor of Hertfordshire Partnership University NHS Foundation Trust to enable him to devote time to being Master; whilst at the trust, he was interim chair of the Appointments and Remuneration Committee. He is the Honorary Ward Clerk for the Ward of Cripplegate. He was a school governor for many years. He has also been involved in several other charitable and voluntary activities.
Michael is married to Jill, a Consultant Physician with the Barts Health NHS Trust, and they have two sons in their mid-twenties. They live in Elstree, Hertfordshire. In his spare time, Michael enjoys reading, particularly about twentieth century history and politics, is a keen theatre-goer, enjoys travel, especially to New York and around the Mediterranean, watching Rugby, cooking for friends, and walking, his favourite walks being along Cornish clifftop paths.
Michael greatly enjoyed his year as Master, especially the fellowship that it brings. The theme of his year was "The Richness of World Trade."