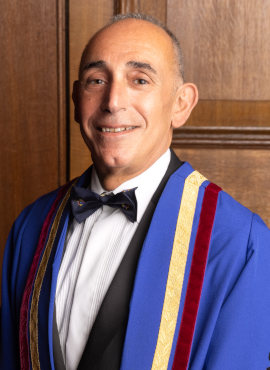 Michael Shapiro was installed as Senior Warden in October 2021.
Michael joined World Traders in 2013 and was clothed a Liveryman in 2015. He was elected to Court in 2017, becoming Chair of The Membership and Fellowship Committee a few months previously, and retiring from that in October 2021.
Michael became a World Trader for a number of reasons. By profession, he has been a property solicitor based in the City of London for nearly 40 years, and he wanted to avoid spending his spare time in the company of fellow professionals. Much of his work has an international flavour, as many of his clients are based overseas and need to have a presence in this country. Finally, and most importantly, his proposer assured him that he would enjoy being part of the Company.
In his professional life, Michael spends much of his time explaining how English property law and practice actually work to his European clients, some of whom have enjoyed coming to World Traders events. He is interested in how leaders develop and he is particularly keen to pass on his experiences of life in the City and the Company to our Journeymen members.
Michael loves the traditions of the City, and the way they fit into modern life . He especially enjoys walking round the City, marveling at the juxtaposition of the old and the new. He is a great admirer of the richness of the architecture of the London skyline especially as viewed from the banks of the Thames.
Michael is an elected Governor of Hertfordshire Partnership University NHS Foundation Trust and is the Honorary Ward Clerk for the Ward of Cripplegate.
Michael is married to Jill, a Consultant Physician with the Barts Health NHS Trust, and they have two sons in their mid-twenties. They live in Elstree, Hertfordshire. In his spare time, Michael enjoys reading, particularly about twentieth century history and politics, travel, especially to New York and around the Mediterranean, watching Rugby, entertaining friends, and walking, his favourite walks being along Cornish coastal paths.
Michael is greatly looking forward to supporting The Master in his year as Senior Warden, and is starting to plan his year as Master in 2022/23.