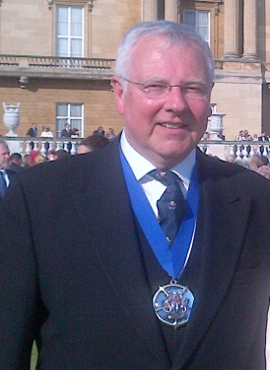 Mr John Burbidge-King 2012-2013
John was born in the City of London in 1946, so he may be a Cockney! Educated in Chichester and Warminster, after a brief sojourn in the Patent Office, he first joined the Territorial Army (Parachute Regiment RAOC) and then the Royal Marines in 1964. He was commissioned in 1966 and served, amongst other places, in Aden (45 Commando), the Asia (42 Commando) and after a little time in the UK, was attached to the Ethiopian Marines in Eritrea, then seconded to the Sultan's Armed Forces in Oman. He went on to command the Platoon Commanders Division at the Army's School of Infantry, then after a brief tour in Northern Ireland with 41 Commando left the Corps in 1979.
Civvy Street was no less lively! After working in South London and Bristol for four years with a firm of stationers and paper merchants, John joined De La Rue. He held senior positions in international business including banking electronics, biometrics, currency and security printing, travelling from Chile to China and all stops in between. During that time he lived for two years in Bahrain. He speaks Arabic.
Leaving De La Rue in 2004, he decided that early retirement was not on the agenda. He founded Interchange Solutions in 2006 which helps organisations to mitigate corruption risk. In 2009 John gave evidence to the Joint Parliamentary Committee considering the draft Bribery Bill (now the Bribery Act 2010).
John is a member of the Fraud Advisory Panel; an Associate Member of the Institute of Risk Management; a Member of the Chartered Management Institute and a Middle East consultant/trainer to both Farnham Castle and Canning School.
Since becoming a World Trader in April 2003, John has worked closely with the City of London Red Cross and in particular the Christmas Market. He also joined a brilliant team of World Traders, led by Freeman Hon causa Pat Alston ONZM, in the organisation of the 2008 London Bridge Sheep Drive which raised more than £50,000 for the Lord Mayor's Appeal.
John is married to Anna, author and entrepreneur; they have one daughter Maria and three sons, a daughter from previous marriages and grandchildren. John's idea of fun is riding his motorcycle, wherever and whenever!