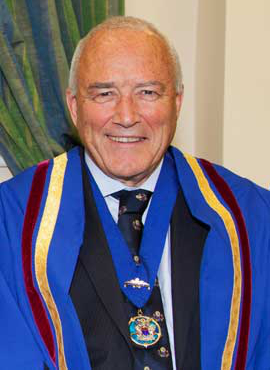 Robert Woodthorpe Browne MBE, Master 2016-17
Robert spent his childhood in Woodford, Essex, and attended St Ignatius' College, Stamford Hill. He then studied at the Universities of Poitiers, Barcelona and London (Birkbeck College) where he gained his BA Hons in Spanish. He is a proficient linguist.
His career has been in reinsurance, working both as broker and underwriter, including Membership of Lloyd's. Concentrating on the Third World, he founded the African Insurance Conference when working in Mauritius. After 20 years concentrating on Africa and the Middle East, he moved on to Central and Eastern Europe following the end of the Iron Curtain era, eventually becoming a Consultant to major Russian insurance companies.
With a keen involvement in politics, Robert has stood six times for Westminster and twice for the European Parliament. He is a member of the Bureau of Liberal International and a member of the Gresham Society Committee, promoting the free Lectures of the City's first University College
Married with one son, a City banker, Robert's hobbies include Forestry, Lowestoft porcelain and travel – he is a Fellow of the Royal Geographical Society who has visited 150 countries. He is a Council Member of Chatham House, a Board member of the British German Association and a Committee Member of the British German Association.