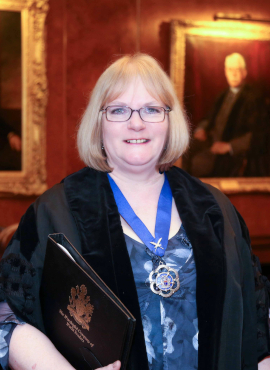 Mrs Gaye Duffy
Gaye was appointed Clerk to the Company in October 2008.
After working for a number of years in various legal firms she gave up work on the birth of her first son. Her career in the livery began when she started to look for a part-time job. A close friend was secretary to the Master of the Solicitors' Company whose elderly Clerk was looking for assistance a couple of days a week.
When her youngest son started full-time school Gaye decided to look for a Clerkship in her own right and was appointed Clerk to the Marketors' Company (of which she is an Honorary Liveryman) where she served for 12 years before her appointment as Clerk to the World Traders.
She is a member of the Fellowship of Clerks, of which she was President in 2003-04, an Honorary Liveryman of the Arbitrators' Company and is a former member of the Livery Committee.