On April 25, around 50 year 10 students and 5 teachers attended World Traders' annual World of Work Conference. The Conference differed from 2022 as rather than holding an event for year 10 and year 12 students, this event was purely for the younger crowd to help them prepare for the career paths that lie ahead.
The objective of the Conference was to provide guidance and practical assistance to students transitioning from education to the workplace. Combining participative group exercises, lively discussions, and regular Q&A opportunities amongst students and a panel of individuals who could share their career journeys.
An Insightful Start
The Conference was opened by an insightful speech made by Master, Michael Shapiro. Master explained how the livery has evolved, its connection with the City and current relevance, specifically mentioning World Traders' belief in the importance of accessible education.
This was followed an introductory message from Birkbeck College, our partners and hosts for the Conference, setting the tone for an informative, highly enjoyable and rewarding day.
Next on the agenda was a keynote message on the vital importance of digital skills in our modern workplace, delivered expertly by Journeyman, Giulio Capodimonti – himself a young entrepreneur and former banker who has created a successful digital business. Giulio is the Co-Founder and COO of DeepGears, a venture capital-backed fashion tech startup, building software enabling online shoppers to buy any garment in 3D. This proved particularly interesting to the students, and an array of questions followed.

Workshops & Discussions
The presentation was followed by a series of workshops, operating concurrently as the students were allocated to four separate groupings. These covered three key areas:
Developing Confidence Through Asking Questions – facilitated by Paul Williams and Kelvin Mills
Communicating With Confidence – facilitated by Robert Keller and Oana Chiriac-Lazar
Cross-Cultural Working in the Business Environment – facilitated by Danny Kalman and Elisabeth Mainelli
The day then moved on to a panel discussion led by Journeyman Tukeer Hussain. The Panel comprised 4 members with different life and career experiences; Richard Derry who works for the Treasury specialising in climate change, Nafisah Jahan, a future JP Morgan Degree Apprentice, Humayra Patel from the Department of Work & Pensions, and Stephen Taylor-Hunt from the charity sector.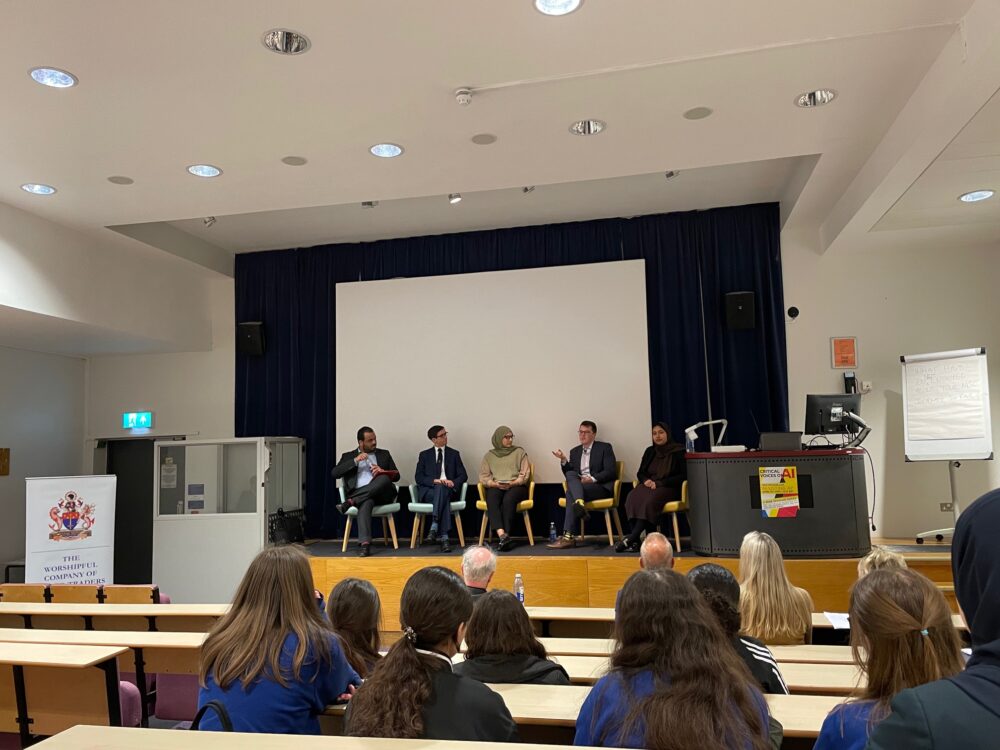 The Conference ended at 4pm following a positive, motivating closing message from Past Master, Sue Algeo.
Until Next Time…
The administration was seamless, the students and their teachers were a credit to their schools, and happily, all parties felt they had been involved in something special. This coming July, we'll be hosting a separate Conference all about supporting year 12 students with their transition to the workplace.
The students were drawn from four state schools located near our hosts and partners, Birkbeck College: George Green School, Totteridge Academy, Kelmscott School and Waldegrave School.
Conference coordination was led by Danny Kalman and involved a number of World Traders including Ben Pape, Robert Keller, Oana Lazar, Paul Williams, Sue Algeo, Kelvin Mills, Mohammad Omar, Tukeer Hussain, Sian Rees and Elisabeth Mainelli.