I am delighted to announce that our affiliation with HMS President was formalised by the signing of a Memorandum of Understanding on Tuesday 20th June 2023 by The Master on behalf of The Worshipful Company of World Traders and Capt. Greg Young, VR. RNR then Commanding Officer of HMS President.
The Company has had an informal relationship with HMS President for a number of years now. As Commander Young, Greg came to Mary's installation at Goldsmith's Hall where I first met him. Past Master Sue Hughes lives 10 metres away and has built an excellent relationship with the institution over many years, and Immediate Past Master Mary Hardy is an Honorary Captain there (that's what you get for being on The Navy Board!). Sarah Goodhew also has connections with them.
HMS President is not a ship as such – it is what is known as "stone frigate", that is, a shore establishment of the Royal Naval reserve on the northern bank of the Thames near Tower Bridge, overlooking the entrance to St. Katherine Docks. You can see more via their website.  Liveryman Commander Nick Chatwin is our liaison officer with them.
I was invited to "Divisions", the annual parade and prize giving, which takes place on the parade ground within the walls of The Tower of London. The reservists march in their divisions from their base to the Tower of London, and they are inspected, awards are given (which from next year will include our own award) and they march back. The inspecting officer, Cdre Mel Robinson CBE ADC made a point of talking to everyone on parade.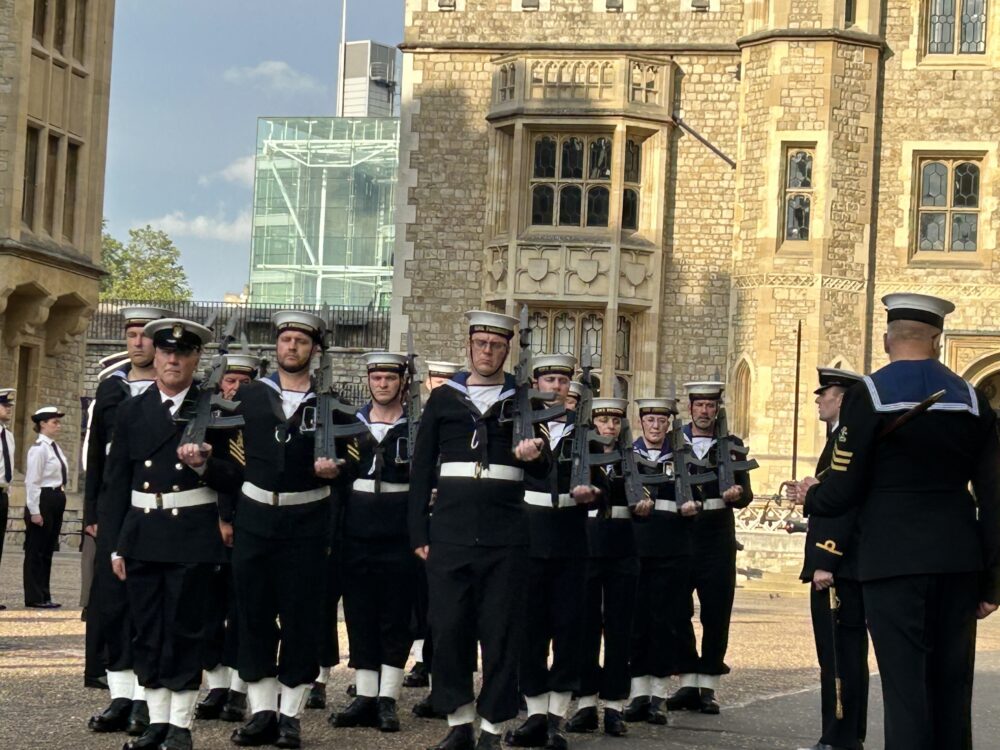 The visitors then returned to HMS President for a marvellous reception with the officers in the wardroom, and we were out on the balcony overlooking the River (where Hon Capt. Hardy had her Masters-at-Home last October). The wardroom table was cleared, the photographer (Marcus Young, the schoolboy son of Capt. Young) took photos holding at least one phone in each hand and Capt. Young and I signed and exchanged Memoranda under the portrait of Admiral Horatio Nelson, witnessed by Past Master Sue Hughes, Hon. Capt. Mary Hardy and Sarah Goodhew.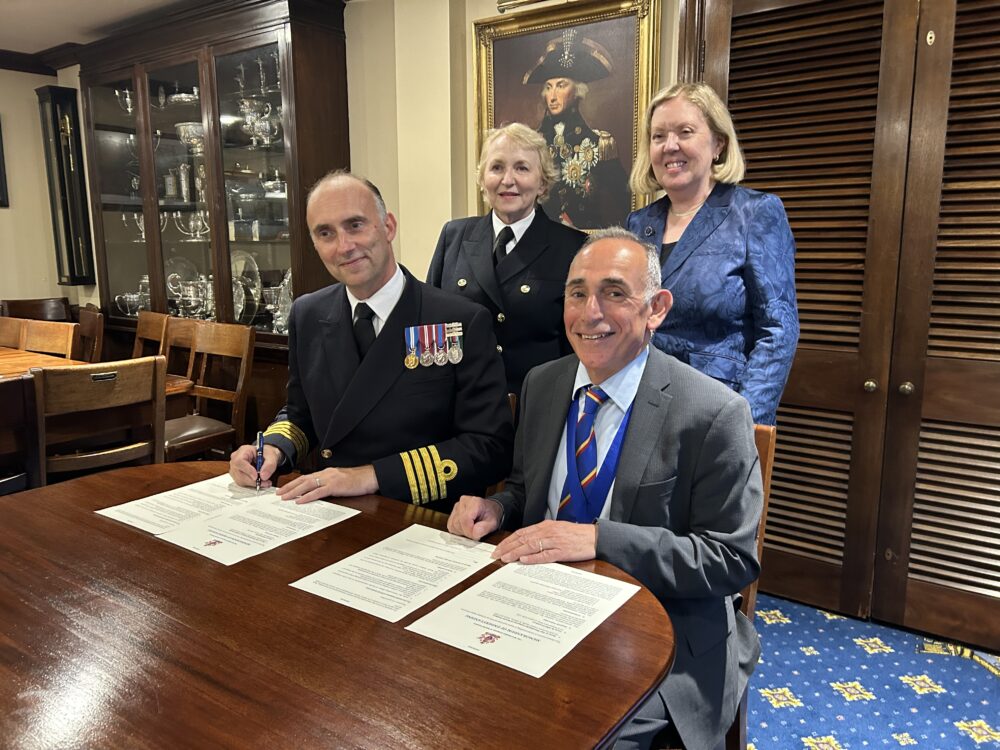 Then I was back on the balcony the following week on Tuesday 27th June for the Supersession Ceremony. Capt. Young was appointed as CO of HMS President in October 2020 and it is an appointment which lasts a couple of years. This was his last night as CO, and accompanied by his wife Jane, also a reservist based on President, he walked down the jetty in front of the building and on to a RIB waiting for him on the Thames.
He and Jane were carried at some speed and with the wake of a larger ship and some speeding blue light boats on the river, they passed under the half open Tower Bridge and were cheered by all on the balcony.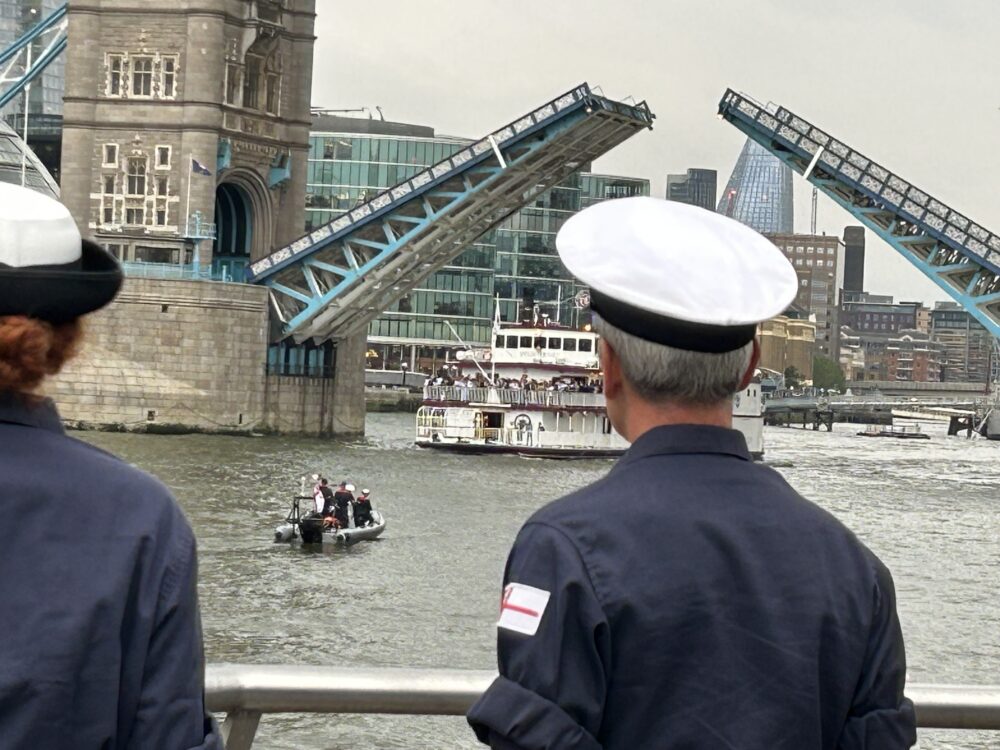 We also had the pleasure of meeting his successor as CO, Commander Laura Harrison and she is looking forward to coming to a World Traders Dinner. Some of us, including other Livery Masters whose companies are affiliated to President then had a delicious dinner with many of the officers in the wardroom, and the outgoing and incoming COs, who were toasted with a glass or two of Maderia.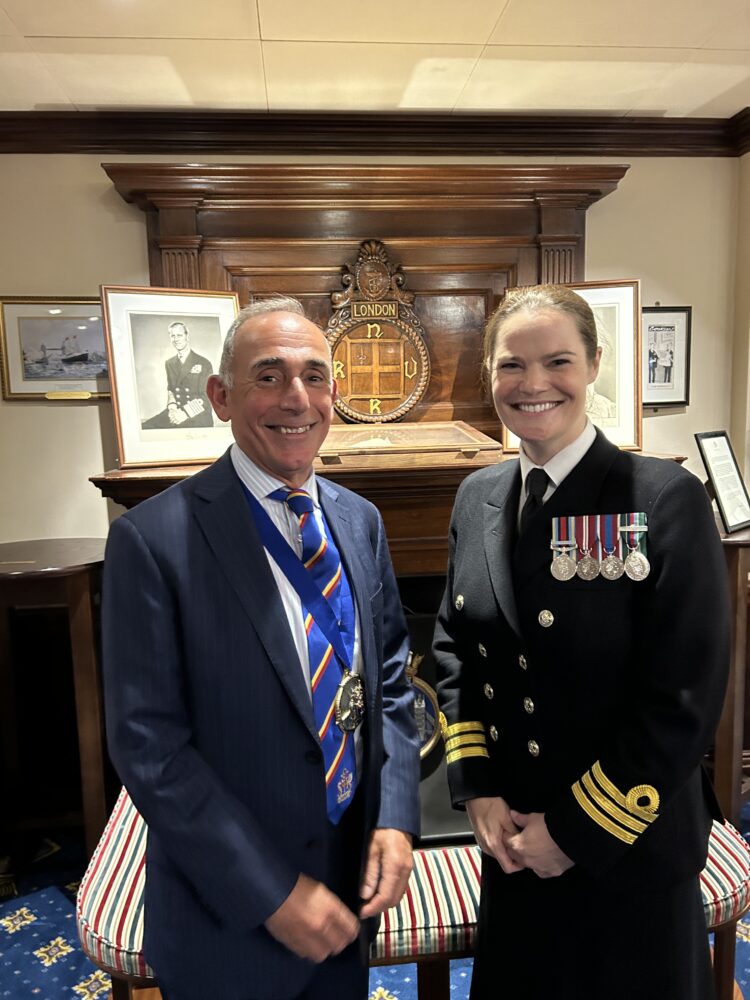 Eventually I left, having had two great Tuesday evenings with our new affiliate.