This article was written by World Trader, Gael Clough and her grandson, James Ogden who accompanied her on the trip.
On our third day of the trip (after many World Traders spent an evening on the town!), we boarded our coach at 10am for the 18-mile drive to Laulasmaa, watching green fields and pine woods seemingly pass us by. Without a single sighting of elk, we arrived at the Spa Hotel where we split into two groups: one exploring the Spa and Baltic coast, and the other enjoying talks from seasoned professionals.
Taavi Tamkivi, CEO and founder of Salv software company and member of the Estonian Founders Society first welcomed us. Speaking about the country's drive and vision for technology, Taavi explained how many Estonians who experienced Soviet rule had "lived in their heads", and that the 9pm curfew, overseas travel ban, and even being forbidden to approach the seaside resulted in great ingenuity for the digital world.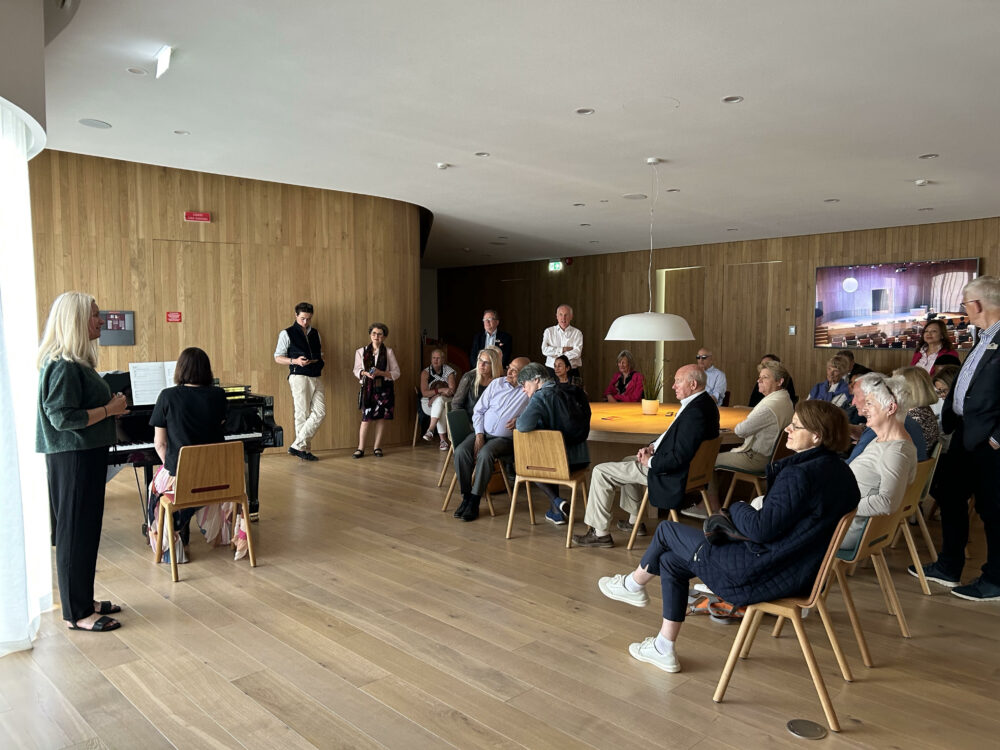 In 1992 when the Russians left, the 1.3 million Estonians finally had autonomy to make firm decisions for the future of their country.  A modern legal system was established, and they were determined to create an incorruptible and honest democratic country with simple tax laws by relying on technology. This has become the country's speciality, and founders of successful startups are often revered.
Marcus Uudamm founding partner at Karma Venture Capital and Chairman of EstVCA and Kadri Lindpere, MD of EstVCA, continued Taavi's theme.  He reminded us that Skype had been designed by an Estonian, as had a dozen or so other unicorn firms, and €1.3 billion was now invested in Estonia, 8x more than the EU average per capita, drawn particularly by their start-up incentives.
Talent was being attracted from all over the world, with Iran, Turkey and India heading the list, and he and Maarja Pehk – our informed leader – had set up a free international coding school, Kood/Johvi, to boost the diversity of technical and entrepreneurial skills. The Master thanked these speakers, quoting highly apt texts, "Nothing is ever achieved without enthusiasm" (Emerson) and "There are only two mistakes one can make on the road to truth; not going all the way, and not going at all" (Buddha).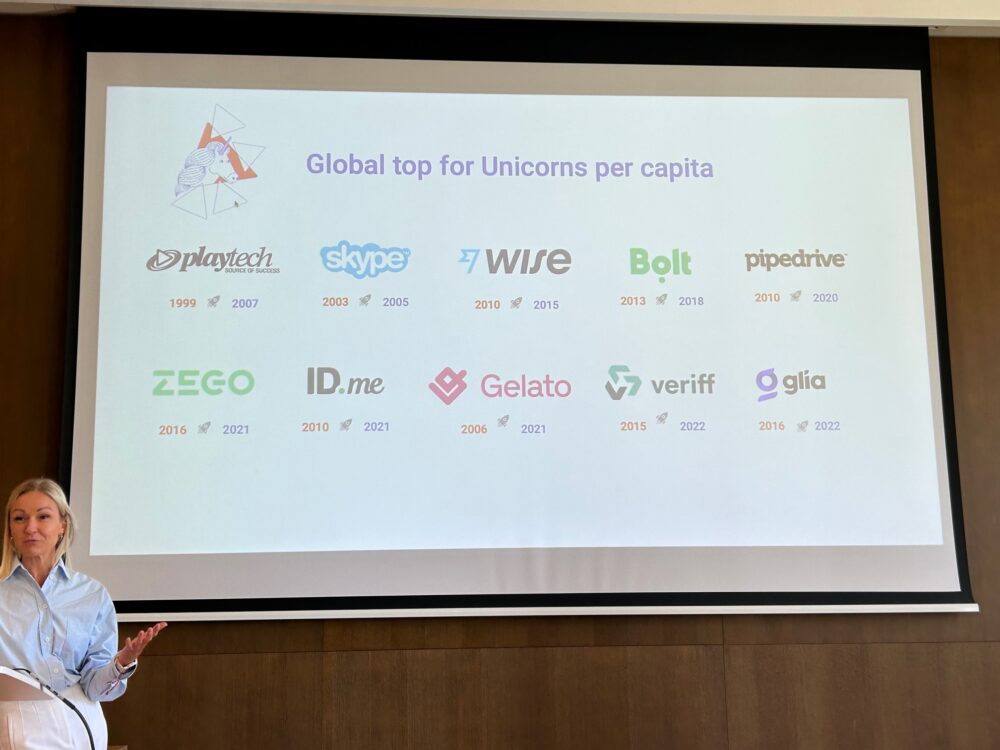 Meanwhile, the second group had been enjoying an equally relaxing morning, paddling in a sea warmer than Cornwall's, looking for amber, which we subsequently discovered was only to be found in Latvia and Lithuania, and exchanging ideas.
"The weather was incredible that day. The sun glimmering through the beautiful pine trees. Just before our delicious lunch in the Michelin-starred Wicca restaurant, a few of us enjoyed the 'health' bar which had a multitude of fruity drinks. Whilst no amber, we did have a lovely drink – eating sturgeon for lunch was a first for me." – James
After lunch, we walked through the silver birch and oak woodland, carpeted with lily-of-the-valley, wood anemones, wild garlic and bilberries to a very modern single-storeyed wooden house with curved glazed walls, a large stainless steel viewing tower adjoining.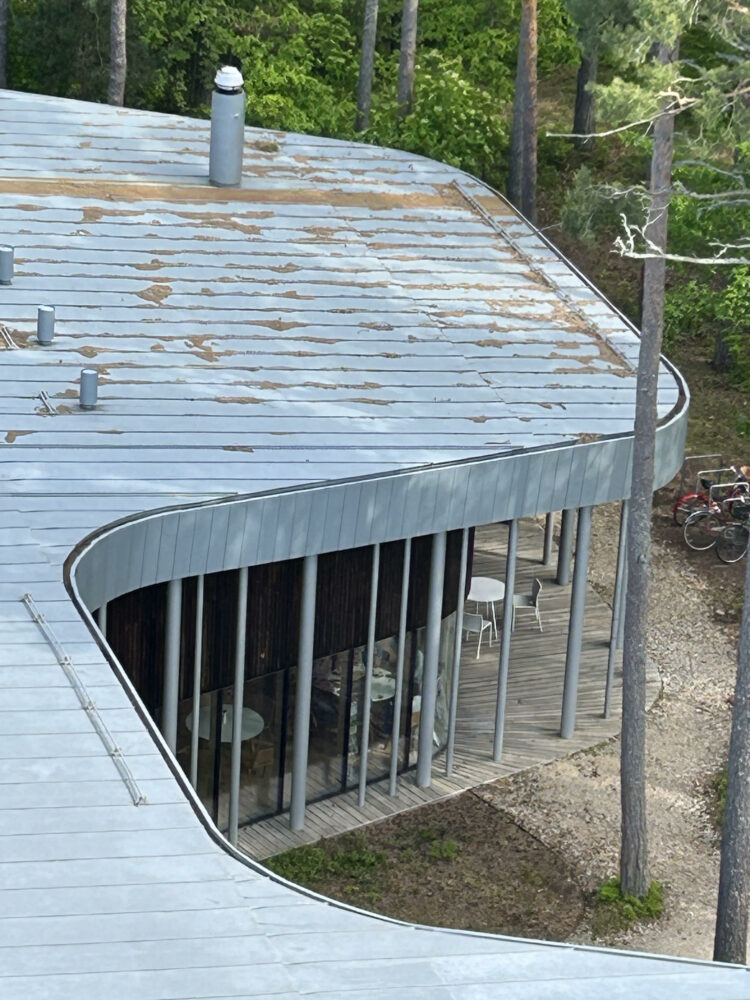 This was a museum dedicated to Arvo Part, born in 1935, and one of the most performed living composers in the world. Columns around the atrium were lit up with his sayings, and the library next door was filled to the brim with books. Part's musical epiphany came in 1976 when he heard the echoing of bells and incorporated them into his musical compositions. He said, "In tintinnabuli, two different worlds merge together and form one. One and one is one."
After hearing some of Part's music, we visited the tiny Greek-style Chapel and ascended the lookout Tower to see the extensive view over the Baltic and surrounding countryside.
"The Arvo Part museum and musical concert hall were a fascinating insight into the complex works of the famed musician and conductor.  The architecture was just as fascinating with a huge tower with a lift taking you above the canopy of thick pines." – James
Off we went in the bus again, now to the Seaplane Harbour for a reception with the Deputy Head of the British Mission, Ms Ify Agboola. This Harbour had been built in 1916 as part of the sea fortress system defending St. Petersburg, and then from 1918-1940 was used by the Estonian Air Force. Investestonia hosted the evening.
"Having had a lovely drink above the vibrant city from our rooftop bar, a few of us headed out into the night in search of a karaoke bar.  Having walked around the city for quite some time we settled on an Irish bar. Not quite the Estonian culture we were  looking for but it was a lot of fun. Having sung ABBA's Dancing Queen at the top of our lungs, we decided it was probably time to head back." – James