During the late afternoon of September 7th, with the year's hottest day to date outside, the Master was delighted to be in the cool of All Hallows by the Tower. There, we gathered to mark the return of Sir Ernest Shackleton's crow's nest from his third voyage to the Antarctic, in "Quest", which left the Port of London in 1921.
It was in January 1922, whilst on that voyage, that Shackleton suffered a fatal heart attack and died on South Georgia, and was buried in Grytviken on the island. The event at All Hallows was sponsored by the South Georgia Heritage Trust to commemorate the return of the crow's nest, which has lived in the crypt at All Hallows for over fifty years.
The Trust has facilitated the round trip of the crow's nest from All Hallows to Shackleton's birthplace in Ireland – Athy – and on to Grytviken, where it was on display to commemorate Shackleton and his voyages.
The South Georgia Heritage Trust "delivers projects that protect the faraway icy isle and the amazing wildlife that calls it home, and preserve the rich cultural heritage found upon its shores." We were honoured to welcome its Patron, HRH The Princess Royal, as well as a number of people who are closely involved with the Trust.
The event was led by Reverend Katherine Hedderly. We were treated to music from The Square Mile Choral Scholars whose unaccompanied singing during the event was sublime.
We heard talks about the Trust, and how the crow's nest was transported round the world and back again. We learnt about the voyage itself  in an entertaining and well-delivered talk by Adey Grummet, the History and Education Officer at All Hallows. Our own Alderman Professor Michael Mainelli spoke about Shackleton, and what drove him to be an explorer. The Lady Mayoress spoke about the role of the City of London in helping to sponsor the voyages over a hundred years ago.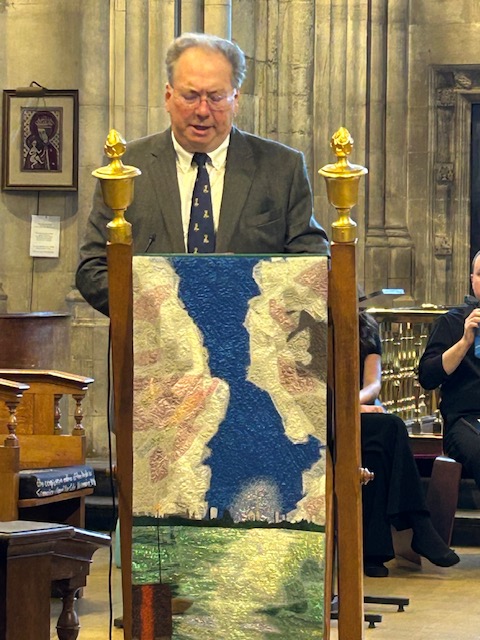 It was a fascinating, educational, and moving hour – made even more special by The Master finally locating the Company's stained-glass window in the church.