This year's Tacitus Lecture turned into an incredible Tacitus Day in the hands of our speaker, Dr Nathan Myhrvold.
Dr Myhrvold took on the challenge not only to deliver what has become an iconic lecture in the City of London on Cyber-trade and AI, but to engage in an extraordinary day of activities that befitted his versatility and intellectual prowess. What a day it was. Here's a small sample of what happened:
The Morning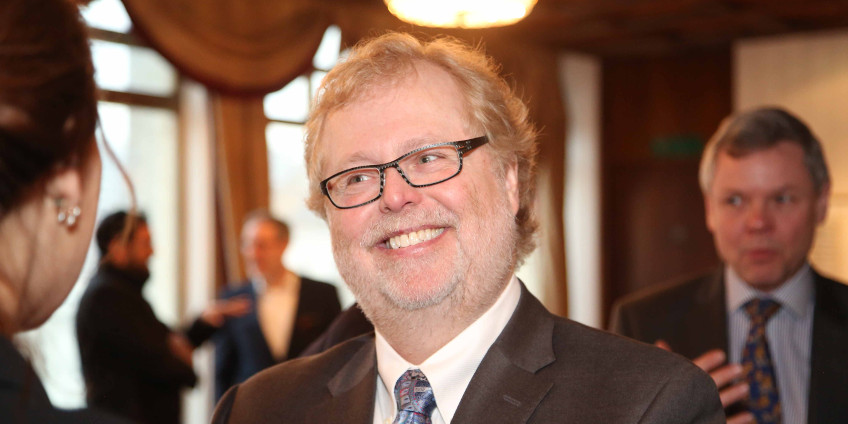 Guildhall – A Breakfast Exchange – a 90 minute breakfast with some 35 people from science, industry, government, and the press led to some great connections for the Company and a lively debate ending on some of the dangers of AI.
Freedom of the City Ceremony – following a tour of the Guildhall for Nathan and his family, Assistant Chamberlain Murray Craig orchestrated a wonderful ceremony, officiated by The Remembrancer Paul Double (a rare honour).
Presentation of the World Traders' Talisman to the Chamberlain's Court – we rectified an oversight this year. Virtually all livery companies have a token of their company in the Chamberlain's Court, e.g. the Woolmen have a toy sheep, the Information Technologists a Raspberry Pi.  We were delighted that Wendy Drew, also a sponsor of the Lecture, presented a silver moneybag engraved with our Coat of Arms atop which sits a glass globe.  The silver moneybag had been donated to the Company in 1972 by Peter Drew, our founding Master. A 'moneybag' is part of our Coat of Arms. As ever, I was tempted to whisper, "Hey Buddy, want a planet?"
The Afternoon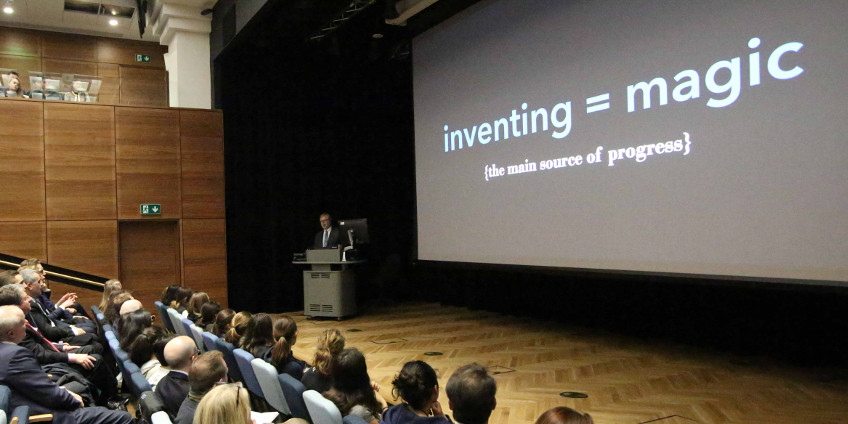 Lloyd's Register – around this time we began to realise we might have overdone this marathon as we headed to Lloyd's Register who were co-sponsors of the event.  They hosted us for lunch and provided an excellent tour of their famous Collcutt Building.
Kings' College London – a quick dash across the City to Bush House was followed by Nathan giving his first lecture of the day, An Audience with Dr Nathan Myhrvold: How Invention Can Spur Development.  We were thrilled that Alderman Sheriff Tim Hales, a KCL alumnus, came in full Sheriff's regalia from the Old Bailey just to open the proceedings and welcome our speaker.  Some 300 students and members had a wonderful overview of Intellectual Ventures work on preventing disease, cooling systems, and other approaches to reducing developing world poverty. We somehow managed to get time for over 20 questions from girls from St Paul's School to senior members.
King's College London Archives – another dash across the road and Nathan was treated to many of the items members saw in our November visit, From Archives To Modern Lives.  He was particularly touched by being allowed to handle James Clerk Maxwell's laboratory notebooks.
The Evening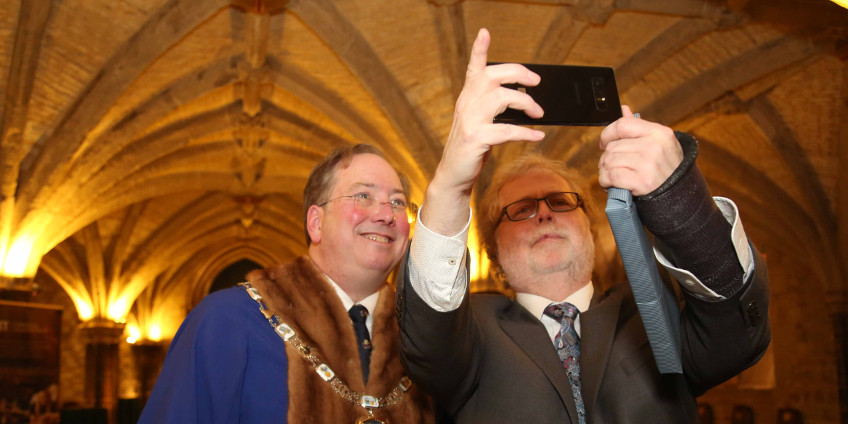 Guildhall Tacitus Lecture – if you weren't with us on the day, you might think this could have been anti-climatic.  Far far from it.  It was the largest Tacitus turnout ever, with a special television feed to an overflow room. Nearly 1,000 people were involved.  Dame Fiona Woolf, in the role of Lord Mayor Locum Tenens, introduced proceedings. Dr Myhrvold was masterful and his speech, Cyber-Trade: Will AI Displace Or Enhance Our Work is available for viewing and reading. Our new format of pre-selected questions permitted us to range from schools to seniors, but also to get more questions in swiftly.  The reception was abuzz, and some of the buzz was due a prize draw suggested by our Fellowship & Membership Committee.  The prize was a signed copy of Dr Myhrvold's magnum opus, over 2600 pages on Modernist Bread.
Young World Traders' Dinner – was held at The Don for 25, addressed by Professor Nathaniel Copsey of Aston University on the EU.  A lively discussion ensued.
Wax Chandlers' Tacitus Dinner – some 60 people (a few of them slightly exhausted) proceeded to partake of our Company's excellent hospitality as we thanked sponsors, Mrs Wendy Drew, The Cardano Foundation, DasCoin, Aon, Lloyd's Register, Beaufort Securities, and the Commercial Education Trust, and other supporters of the day such as Dame Fiona Woolf (whose portrait hung above the proceedings).
As Elisabeth and I toddled home around mid-night, we couldn't have imagined a fuller day.  Our thanks go to the many, many, many members who helped in all sorts of ways.  Many remarked on the great spirit of so many members helping.  Nick Mayhew and the Tacitus Steering Committee were fundamental, Zoe Buckingham, Jan Dawson, and Pauline Rafal.  Huge numbers of helpers (and I apologise in advance for missing some I'm sure) included Sue Algeo, Gwen Batchelor, Sue Garden, Sheila McGregor, Heather McLaughlin, David Seall, Michael Shapiro, Paul Walker, Nick Harriss, Ben Papé, Diane Morris, Susan O'Mahony, Eric Davis, Alan Milne, Chris Edge Col McLaughlin, Merlene Emerson, Pauline Lyle-Smith, Adèle Thorpe, Ian Aitchison, Peter Tennant, Val Hiscock, Sean Costello, Bashir Siman, Dessy Nascimento, Philip Worley, Oana Lazar, Barbara Woodthorpe Browne, Robert Woodthorpe Browne, Anne Loach, the Senior Warden, the Junior Warden, many spouses & partners & consorts, and of course our Learned Clerk.  If that's not a team effort…  My sincere thanks to all.